Sen. Sanders: "Exactly what should be done"
Bill McKibben | Nov 2, 2007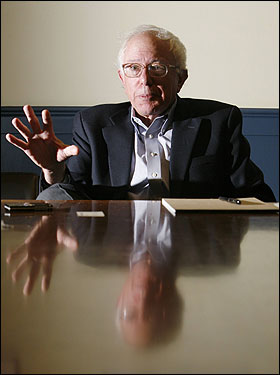 Bernie Sanders is my hero. He was the first politician to come aboard at the first demonstration that began the Step It Up movement. And he's been the greatest champion in the Senate of solutions that take the science seriously. Here's what he said in the Senate yesterday:
Let me congratulate Step It Up. You are doing exactly what should be done - leading a strong grassroots movement that will transform our national energy system.

Earlier today, the Senate Environment and Public Works Subcommittee onPrivate Sector and Consumer Solutions to Global Warming and Wildlife Protection approved legislation, often called the Lieberman-Warner bill, crafted to address global warming. I opposed this bill for a variety of reasons. The most fundamental is, that based on the scientific evidence, it would not reduce greenhouse gases emissions enough to stop catastrophic changes in the Earth's climate. This committee action is the first step of many in a lon­g process in Congress.

Although the legislation is a step in the right direction, it simply does not go far enough to do what scientists tell us must be done to stop global warming. If we are not extremely bold and aggressive, this planet faces dire consequences in the years to come.
Read on >>